A new type of Straight mute

We call it the "Little Big Man!"
Don't let the diminutive size fool you.
The far carrying tonal projection.
The tonal projection of the Straight mini is unpredictably powerful and second to none. Straight mutes often have to reach an audience acoustically, without the aid of amplification. You will be surprised at how far the sound will carry, with less metal restricting the airflow from the bell.

note – this mute will sound quieter to the player than a regular sized straight mute. But try playing up against the wall, or having a friend listen out in front of you. They will be amazed by the amount of volume and projection.
Compact, yet precise pitch.
Finally achieved this concept!
As with all our Best Brass mutes, pitch is uncompromised. Through our years of research with e-Brass and the Warm-up, we have achieved a mute that plays well in tune in any register with this compact size. ( It may not accept an extreme size bell. ) All trumpet players need a good straight mute in their arsenal, so why not choose one that sounds great, plays in tune, takes up less room in your case, and most of all maintains the uncompromising quality of the Best Brass name.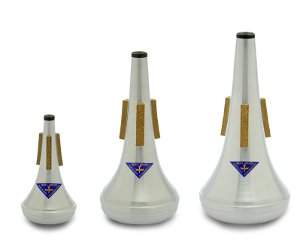 Straight mini.
Name
Trumpet
Trombone
Bass Trombone
Material
Aluminum
Aluminum
Aluminum
Weight
31(g)
118(g)
157(g)
Extends from bell
Approx.12mm
(0.472")
Approx.15mm
(0.590")
Approx.10mm
(0.394")
TP/ TB/ BTB/ PTP(Brass)
Aluminum/Copper/Brass