*New Groove Line-ups: HR-AX & EPTB(Heavy!)
Debuting new models of Groove mouthpieces:
Check it out on their description!
Horn 'European Axial Model' & Euphonium/Trombone models
Astoundingly small new SOUND TRANSFORMER.
Just insert 'Warm-up nano'in your Wah-wah mute(Cool Jazz style), and it reduces instrument output to a whisper while maintaining the full tonal characteristics of your favorite mute. Also, you can do a buzzing practice by putting your mouthpiece in Warm-up nano.
e-Brass Ⅳ(4) Trumpet is now available!!!
With a fundamentally new approach to the design of the mute, it has become so much more comfortable to play in all registers while preserving the quietness of the mute. Besides perfect pitch and less back pressure in all registers, the notable performance in low registers makes an especially clear departure from the conventional practice/silent mutes. Also, this mute accepts a wide variety of different trumpet bells, including rotary trumpets.
A new mouthpiece standard !? – introducing the model 'KAI(改)'
Debuting three new models for trumpet: 1C改, 3C改, and 5C改, powered by a completely new structure (pictured above). This is a new development from Best Brass, and we call it 'Accelerator.'
'Accelerator' produces this effect specifically in high registers. For more details.
e-Brass
The world's smallest and lightest e-mutes! This is the ultimate practice mute from the inventor of Yamaha SilentBrass.
» For more details
HAMANAGA VALVE SYSTEM
An excellent example of the Best Brass philosophy of perfection.
» For more details
Groove Series Mouthpieces !
A new generation in design with "Multi-length System" and "Groove" Concepts. It brings out the highest potential of the instruments.
» For more details
e-Sax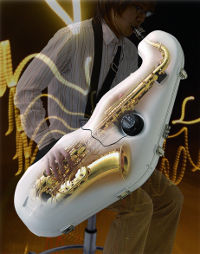 e-Sax is the world's first and only practice case for saxophones. Just put your instrument in e-Sax, and the instrument output will be reduced while maintaining the full tonal characteristics of instruments.
» For more details
Warm-up & Warm-up Jr.
Pro's favorite! The new Jrs for Trombone and Horn are available now!
» For more details
Gestopft Non-transposing
World's first and only! {Introduction of the new model of the Non-transposing stop mute.
» For more details
Calendar Loading
Calendar Loading