New trumpet model Available now.
Our longtime seller has been finally updated! Better in all aspects. Check it out!
Debuting the new Stopping mute: 'PotStop'
'PotStop' is a stop mute whose feature is truly one-of-a-kind. This mute allows you to play stopping with a regular fingering on a score and also can be used for F, Bb, F/Bb double horn, and now even for Vienna horns! » Read more story
A new mouthpiece standard !? – introducing the model 'KAI(改)'
Debuting three new models for trumpet: 1C改, 3C改, and 5C改, powered by a completely new structure (pictured above). This is a new development from Best Brass, and we call it 'Accelerator.'
'Accelerator' produces this effect specifically in high registers. » For more details.
HAMANAGA Waterkey
(NEW)
Another new invention from Shinji Hamanaga! This modern yet classic-look waterkey will achieve many advantages.
» For more details
Groove Series Mouthpieces !
A new generation in design with "Multi-length System" and "Groove" Concepts. It brings out the highest potential of the instruments.
» For more details
e-Brass
The built-in e-mute from the inventor of the original Yamaha SilentBrass.
» For more details
World's smallest practice mute!?
This tiny mute actually does job. Let's check it out how it works.
» For more details
e-Sax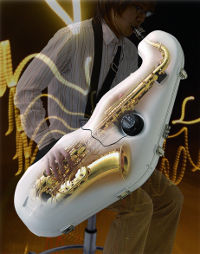 e-Sax is the world's first and only practice case for saxophones. Just put your instrument in e-Sax, and the instrument output will be reduced while maintaining the full tonal characteristics of instruments.
» For more details
Warm-up & Warm-up Jr.
Pro's favorite! The high quality is proved by the cumulative sales amount of over 70000 pieces.
» For more details
Calendar Loading
Calendar Loading